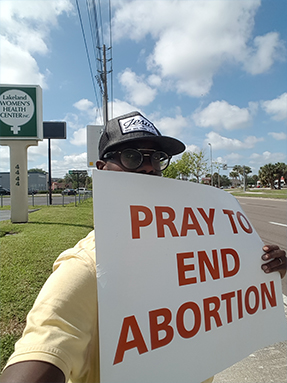 BE A PART OF THE VISION GOD HAS GIVEN US TO ESTABLISH THE KINGDOM OF HEAVEN ON EARTH THROUGH ABOLISHING ABORTION. LEARN MORE ABOUT OUR EXCITING INITIATIVES!
PROJECT DELEGATION: COMMUNICATING TO THE LEGISLATURE
PROJECT KNOCK KNOCK: DOOR TO DOOR ENGAGEMENT
PROJECT GATES OF HELL: ABORTION MILL PRAYER & PREACHING
PROJECT PERSONHOOD: AMENDMENT INITIATIVE

ESTABLISHING SANCTUARY CITIES FOR THE PREBORN

PROJECT FRONTLINES: ENGAGING HIGHSCHOOLS ON LIFE WITH THE GOSPEL
PROJECT INFILTRATE: RANDOM ENGAGEMENT WITH "BELIEVERS"
PROJECT CHURCH REPENT: STIRRING UP LOVE & GOOD WORKS
PROJECT PLANT: RAISING DISCIPLES IN 64 CITIES THROUGHOUT FLORIDA
Upcoming Events
Project Gates of Hell: Orlando - May 15, 2021
BABIES ARE MURDERED HERE! Deliver those who are drawn towards death and hold back those stumbling to the slaughter, if you say, "surely we did not know this," Does not He who weighs the heart consider it? He who keeps your soul, does He not know it? And will He not render to each man according to his deeds? (Prov 24:11) 75% that is 1 out 3 who choose life by you simply showing up! WE PROCLAIM THE GOSPEL, WE PRAY, HOLD SIGNS, whatever it takes!
Project Preach - May 16, 2021
Teaching on: Whatever happened to the doctrine of Suffering! Why me? Why now? What is God doing? ? Suffering is a tool God uses to get our attention and to accomplish His purposes in our lives. It is designed to build our trust in the Almighty. Suffering forces us to turn from trust in our own resources to living by faith in God's resources, WHO IS CHRIST! The ultimate resource
Project Upper-room: Prayer - May 19, 2021
Come pray and worship in the beauty of Holiness before we content with those who are offering their children on the altar of Sacrifice. We must pray! We must stand in the gap! We cover ourselves with the armor of the Lord.
Read more