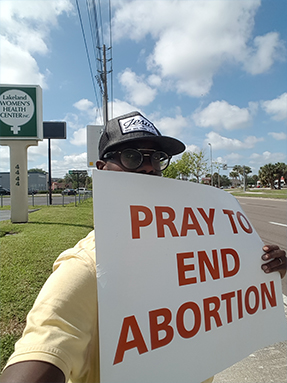 BE A PART OF THE VISION GOD HAS GIVEN US TO ESTABLISH THE KINGDOM OF HEAVEN ON EARTH THROUGH ABOLISHING ABORTION. LEARN MORE ABOUT OUR EXCITING INITIATIVES!
PROJECT DELEGATION: COMMUNICATING TO THE LEGISLATURE
PROJECT KNOCK KNOCK: DOOR TO DOOR ENGAGEMENT
PROJECT GATES OF HELL: ABORTION MILL PRAYER & PREACHING
PROJECT PERSONHOOD: AMENDMENT INITIATIVE

ESTABLISHING SANCTUARY CITIES FOR THE PREBORN

PROJECT FRONTLINES: ENGAGING HIGHSCHOOLS ON LIFE WITH THE GOSPEL
PROJECT INFILTRATE: RANDOM ENGAGEMENT WITH "BELIEVERS"
PROJECT CHURCH REPENT: STIRRING UP LOVE & GOOD WORKS
PROJECT PLANT: RAISING DISCIPLES IN 64 CITIES THROUGHOUT FLORIDA
Upcoming Events
Project Upper-room: Prayer - April 14, 2021
Come pray and worship in the beauty of Holiness before we content with those who are offering their children on the altar of Sacrifice. We must pray! We must stand in the gap! We cover ourselves with the armor of the Lord.
Gates of Hell Project: Lakeland - April 14, 2021
BABIES ARE MURDERED HERE! 8am-12noon Proverbs 24:11 Deliver those who are drawn towards death and hold back those stumbling to the slaughter, if you say, "surely we did not know this," Does not He who weighs the heart consider it? He who keeps your soul, does He not know it? And will He not render to each man according to his deeds? WE PROCLAIM THE GOSPEL, WE PRAY, HOLD SIGNS, whatever it takes! 8 am until whenever you have to leave, we are usually there until at least 11 am
Project Frontline - April 14, 2021
The future of America is in the high-school down the street from your house and church! We live in a culture that has rejected God, if we are going to preserve the future of our nation we must reach the next generation. Come help us reach the youth with the Gospel! We have materials to hand out and signs to hold! 6am Lake Bonnie Park or meet us on the sidewalk in front of the School
Read more